The Largest Regional Peruvian Horse Show in North America
Held in Las Vegas, Nevada at the South Point Equestrian Center
at the South Point Hotel & Casino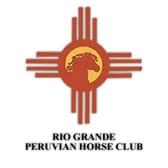 Rio Grande Peruvian Horse Show
The Rio Grande Peruvian Horse Show is one of the participating shows of the Gold Rush Classic, since 2001.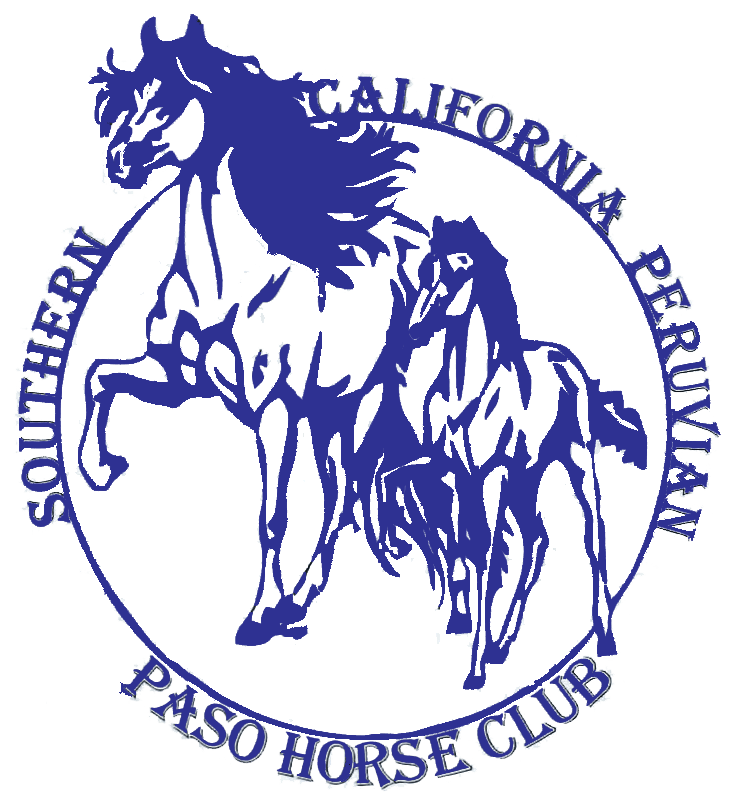 SCPPHC Spring Classic Show
The SCPPHC Spring Classic Show was started in 1998, and has been a part of the Gold Rush Classic since 2016.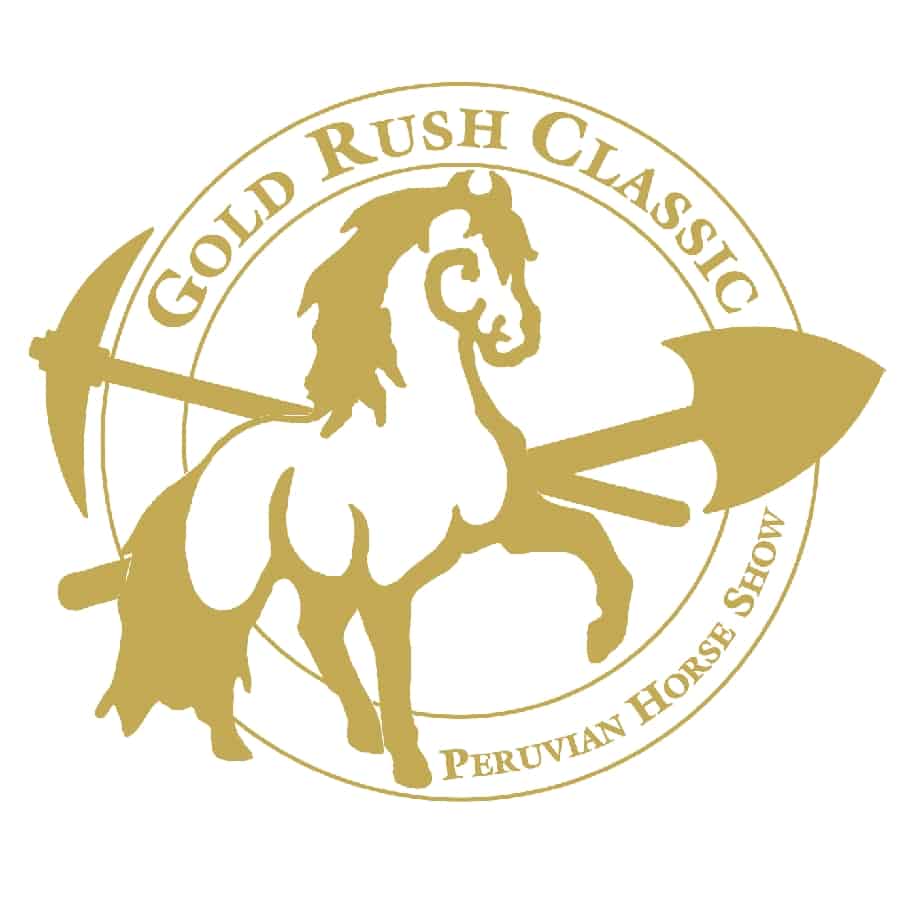 Welcome to the 2022 Gold Rush Peruvian Horse Classic!
June 24-26, 2022!
____________
The 2022 Gold Rush Peruvian Horse Classic is conducted under the rules of the North American Peruvian Horse Association (NAPHA) as an APP (All Peruvian Paso) Championship Show. The show is drug free with testing. Only horses with registration certificates issued by NAPHA, PPHRNA, AAOBPPH, or the PHAC may participate.
The 2022 Gold Rush Classic is approved by the North American Peruvian Horse Association (NAPHA). This show will earn a minimum of double points for NAPHA Awards if the recorded owner(s) of the horse is/are a current NAPHA member at the time of the show—Year end Awards—Medallon de Plata, High Point Performance Horse/Gelding, Zone 2 and Lifetime Awards—Medallon de Oro,  Medallon de Bronze and the new NAPHA Lifetime Award –Medallon de Diamante.
The 2022 Gold Rush Peruvian Horse Classic is approved by the Peruvian Horse Association of Canada; qualified entries will receive annual and lifetime PHAC points.
We are so excited to be returning once more to South Point Equestrian Center in Las Vegas! Check back frequently to this website for updated information!
Read More »
The Exhibitors' Appreciation Dinner & Annual Awards Will Be Held at Next Year's Gold Rush Classic You Are Invited – Thursday Night at the Cinch Saloon! Join us on Thursday
Read More »
Please see the reservations web link below and reservation contact information for attendees.  You can also enter the group code on the South Point website http://www.southpointcasino.com to make your reservation.    Group:            
Read More »
Gold Rush Classic Judge: Rolando Garcia SCPPHC Spring Classic Judge: Andres Ponciano
Read More »
Barbara Windom legacy sponsors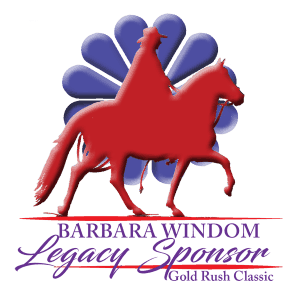 At the 2017 Gold Rush Classic show a group of Gold Rush Classic exhibitors, sponsors and volunteers came together to work on a plan to generate a consistent sponsorship fund for this show. The goal became to create a sponsorship level and commitment of at least ten sponsors who would commit to $2500.00 annually for a minimum of three years, or a lump sum of $7500.00. From this idea the "Barbara Windom Legacy Sponsorship" was born. They had a goal of gathering ten sponsors within a month or so after the show.
Saturday morning conversations were started and the first few "Legacy Sponsors" came forward. By that evening's celebration, which was held in Barbara's honor, the ten sponsors had stepped forward and signed up for this sponsorship of Barbara's favorite show. When the announcement was made during the toast to her during the celebration, six more sponsors expressed their commitment. This brought the first years total to sixteen Legacy sponsors, representing $120,000.00 of sponsorship monies dedicated to the Gold Rush Classic in honor of Barbara Windom over the next three years.
We hope these Legacy sponsorships will continue on for many years to help support the Gold Rush Classic and highlighting the Peruvian horse in this great promotional venue at the South Point Arena & Event Center in Las Vegas, where breeders and owners are able to come together to compete from across North America. A big thank you is due to Ben Sawatsky for spearheading this effort to honor Barbara's legacy and her commitment to the Gold Rush show.
2022 Show Information - Coming Soon!
The information below was for 2021 -
2021 Class Schedule
Show Class #
Official NAPHA class name
qualifies for class #
Show Award
Friday 8:30 am
 
 
 
1
Luxury Geldings 4+ in bit – Stakes
 
 
2
Mares 4+ – Zootecnico
 
 
3
Stallions 4+ – Zootecnico
 
 
4
Geldings 3-4 in Bozal
57
Breeder
5
Novice Equitation 18+
 
Novice
6
Amateur Performance 4+ Stakes
 
 
7
Fillies 3-4 in Bozal
57
Breeder
8
AOTR – Performance 4-6
56
Horse – Breeder
9
Junior Performance – 6 to 12
 
Junior 6-12
10
Junior Performance – 13 to 18
 
Junior 13-18
11
Bareback Equitation
 
Versatility
12
Colts 3-4 in Bozal
57
Breeder
13
AOTR – Performance 7+
56
Breeder
14
Mares 4-6 in Bit
67
Horse – Breeder
15
Ladies & Gentlemen to Ride -Performance 4+
58,60,62
Horse – Breeder
16
Luxury Geldings 4-6 in Bit
63
Horse – Breeder
 
 
 
 
LUNCH
~One hour for lunch from end of class 16~
 
 
 
 
 
 
17
Stallions 4-6 in Bit
65
Horse – Breeder
18
Junior Showmanship in Bit – 6 to 12
 
Junior 6-12
19
Junior Showmanship in Bit – 13 to 18
 
Junior 13-18
20
Mares 7+ in Bit
67
Horse – Breeder
21
Amateur Performance 4+ – Open Tack/Attire
64,66,68
Breeder
22
Luxury Geldings 7+ in Bit
63
Horse – Breeder
23
Novice Performance 18+
 
Novice
24
AOTR – Gait 4+                           
59
Breeder
25
Junior Equitation 6-12
 
Junior 6-12
26
Junior Equitation 13-18
 
Junior 13-18
27
NQ – (Performance 4+ Non Trad Tack/Attire)
 
Versatility
28
Stallions 7+ in Bit
65
Horse – Breeder
Saturday 8:30 am
 
 
29
Junior Performance Pattern – 6 to 12
 
Junior 6-12
30
Junior Performance Pattern – 13 to 18
 
Junior 13-18
31
Novice Breeding 18+
 
Novice
32
Reining Class 4+ (Performance Pattern)
 
Versatility
33
Bozal Performance
57
Breeder
34
Amateur Performance Geldings 4+
66
Breeder
35
Mares Gait 4+
59
Horse – Breeder
36
Amateur Performance Stallions 4+
68
Breeder
37
Geldings Gait 4+
59
Horse – Breeder
38
Amateur Performance Mares 4+
64
Breeder
39
Stallions Gait 4+
59
Horse – Breeder
40
AOTR – Performance 4+ – Open Tack & Attire
56
Breeder
 
 
 
 
Lunch
~One hour from end of class 40~
 
 
 
 
 
 
41
Junior Lead Line 6 yrs & Under
 
 
42
Musical Exercise
 
Versatility
43
Peruvian Attire 4+
63, 65, 67
Horse – Breeder
44
Bozal 3-4 – Gait
57
Breeder
45
Performance Geldings 4+
58
Horse – Breeder
46
AOTR – Luxury Geldings 4+
61
Breeder
47
Performance Mares 4+
60
Horse – Breeder
48
Junior Gait – 6 to 12
 
Junior 6-12
49
Junior Gait – 13 to 18
 
Junior 13-18
50
Ranch or Breeder's Conjunto – Bit/Bozal
 
 
51
Performance Stallions 4+
62
Horse – Breeder
52
AOTR – Breeding Mares 4+                         
61
Breeder
53
Champagne Class
 
Versatility
54
Novice Gait 18+
 
Novice
55
AOTR – Breeding Stallions 4+                     
61
Breeder
Sunday 8:30 am
 
 
 
56
Ch & Res AOTR Performance Horse
8, 13, 40
 
57
Champion & Reserve Bozal Horse
4, 7, 12, 33, 44
 
58
Ch & Res Performance Gelding
15, 45
 
59
Champion & Reserve Best Gaited Horse
24, 35, 37, 39
 
60
Ch & Res Performance Mare
15, 47
 
61
Ch & Res AOTR Breeding/Luxury Horse
46, 52, 55
 
62
Ch & Res Performance Stallion
15, 51
 
63
Champion & Reserve Luxury Gelding
16, 22, 43
 
64
Ch & Res Amateur Performance Mare
21, 38
 
65
Champion & Reserve Breeding Stallion
17, 28, 43
 
66
Ch & Res Amateur Performance Gelding
21, 34
 
67
Champion & Reserve Breeding Mare
14, 20, 43
 
68
Ch & Res Amateur Performance Stallion
21, 36
 
 
 
 
 
LUNCH
~45 minutes for lunch from end of class 68~
 
 
 
High Point Presentations: Juniors 6-12, Juniors 13-18, Novice, Horse, Breeder & Versatility
 
 
 
 
 
 
 
 
 
69
Ch of Ch Performance Mare
60
 
70
Ch of Ch AOTR Breeding/Luxury Horse
61
 
71
Ch of Ch Performance Stallion
62
 
72
Ch of Ch Amateur Performance Horse
64, 66, 68
 
73
Champion of Champions Luxury Gelding
63
 
74
Ch of Ch AOTR Performance Horse
56
 
75
Champion of Champions Breeding Mare
67
 
76
Ch of Ch Performance Gelding
58
 
77
Champion of Champions Breeding Stallion
65
 
Hotel Reservations
2021 High Point Awards
2021 Fees
Staff & Officials
Vendor Information